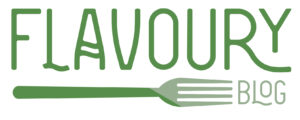 Spring has sprung and with it, the nicer weather has also arrived. Unfortunately we will be celebrating our second Mother's Day under COVID-19 restrictions. As we have learned over the past year, the craving for fine meats, cheeses and charcuterie has never been greater and we are excited to share new products, gifts and cooking ideas.
Our website is now live and you can sign up for a log-in.   You can also peruse our online product catalog for our complete selection of meats, charcuterie, cheeses and pantry items and also place orders directly on our website.
Corporate & Personal Gift Boxes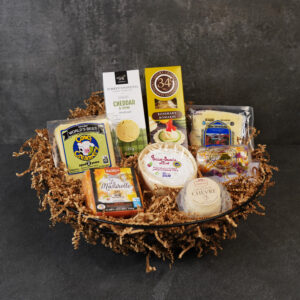 We may not be able to have large parties but we have helped many companies celebrate the holidays, corporate milestones and retirement parties with our custom curated gift boxes.  Virtual parties with cheese and charcuterie from La Ferme will make your Zoom gatherings so much more fun and tasty!  We will also be curating themed gift boxes to help you celebrate special occasions such as Mother's Day and Father's day so be sure to to review our selections.  For more information, see our Consumer Boxes page. Our Mother's Day selection is available now through May 7th, 2021.  Order soon while quantities are available.
New from the Cheese Fridge: Gédéon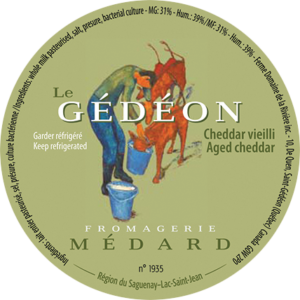 Gédéon is an artisanal cheddar aged for one year. This farmhouse cheddar is made from the whole milk of Swiss Brown cows that are fed in the pasture in the summer and dry hay in the winter. It has a smooth texture and fruity taste. The deep colour comes from nutrient rich summer milk from the family farm.
This cheese was named in honour of the village located near the cheese dairy, Saint-Gédéon, Lac St-Jean.
Fromagerie Médard makes great use of the milk from their 100 Swiss Brown cows. In 2017 they invested in a large hay-drier, to prevent feeding their cows fermented feed during the winter months. From April to October they roam free in the pasture.
Some of Fromagerie Médard's other cheeses include 14 Arpents and Rang des Isles.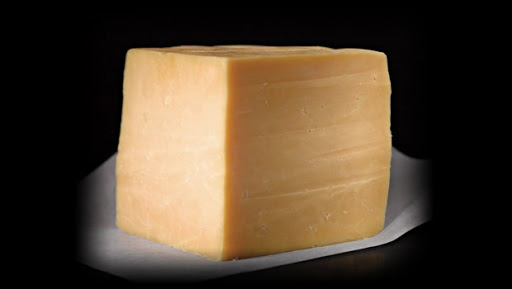 Revisiting old favourites: Beemster
Tucked into the North Holland countryside, Beemster is a farmer-owned cooperative that originated in 1901, but their story dates back to the early 1600s, when the Dutch reclaimed a coastal lagoon, creating a polder, where Beemster cows graze to this day.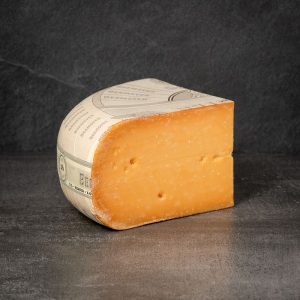 The Beemster Polder, a registered UNESCO World Heritage Site, located in the countryside of North Holland, just miles from the North Sea. The Polder is a former coastal lagoon that was reclaimed from under water in the early 17th century and filled with fields, canals, and dikes, 4 metres below sea level. The region's slate-blue clay soil contains exceptional levels of nutrients and minerals, making its grasses ideal for grazing animals. Only Beemster cows and goats get to graze on these special grasses, which make their milk sweeter, richer, and creamier. Many consider it the finest milk in the world.
Most Beemster cheeses are naturally lactose-free. During the cheese making process, Beemster washes the curds multiple times, removing most of the lactose. Any remaining lactose breaks down in the ripening stage. Beemster Classic and Beemster XO are naturally lactose-free.
Beemster is one of the most popular and visible Gouda style cheeses on the market. The flavour is sweet and salty and savoury, with strong caramel and nutty notes. Along with Beemster Classic and Beemster XO, be sure to try the Beemster Goat and Beemster Vlaskaas as well.
New from Ferme des Voltigeurs – Chicken Pasta Sauce
When Denise Turcotte-Martel started selling chicken at the market in 1958, she did so out of passion. Almost 60 years later, Ferme des Voltigeurs has become the largest supplier of grain-fed chicken in Quebec.  We believe their chickens to be some of the best on the market today.  The farm is now creating a line of prepared foods and frozen products made with their chicken products.  The chicken pasta sauce contains only Voltigeurs ground chicken, tomatoes and vegetables. Cook up some pasta and you will have a tasty and easy meal.
May Promotions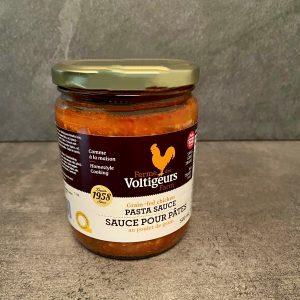 In May we're featuring some of our favourite products on promotion. For pricing or other information, please speak with your La Ferme representative.
Voltigeurs Chicken Pasta Sauce
Kitchen Adventures at La Ferme
This month, Ali, one of our new employees, cooked a Rougie duck breast… and admits, in the true spirit of experimentation that she had to try a few times before she got it right.
Rougie is located in Marrieville, QC and has employed innovative and artisanal farming practices in raising Moulard ducks for over 40 years. Rougie's Moulard duck breasts are individually vacuum sealed so they are a perfect option for chefs and consumers alike – if you know how to cook them!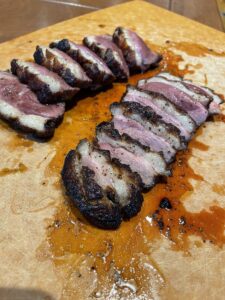 During Ali's first attempt she rendered much of the fat from the thick skin, or fat cap, and ended up with a deep fried duck breast… which  led to a house full of smoke and never ending smoke alarms.
The photo on the left shows the results of Ali's first attempt at cooking the duck breast – burnt, excessively fatty yet still raw. She cooked the duck breast in a cast iron pan for 8 minutes, skin side down and another 4 minutes after flipping it. The results were not what Ali had hoped for so she knew that another attempt was required.
The La Ferme team gathered in our test kitchen on Townsley to give Ali some cooking tips for "Take 2" of her cooking adventure.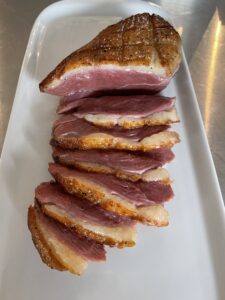 The key difference between the two cooking experiences was finishing the magret in the oven! The taste testing team all agreed that Ali "nailed it" on her second attempt!
Here's the breakdown:
Pre-heat oven to 400 Degrees Fahrenheit – while also preheating your frying pan on medium heat
Rinse & pat dry duck magret
Score skin-side and season generously on both sides of meat (we chose fresh ground salt and pepper)
Cook duck magret

skin-side down

for 3-4 minutes on medium high heat in frying pan
Flip and let brown for about 1 minute on the other side (until nicely seared)
Pop in the oven **in a new baking dish**

skin side up

for about 5 minutes
Slice thinly and ENJOY
We were left with an evenly cooked duck that was crispy, juicy, & delicious with no smoke alarm action!!
If you want to join Ali in her kitchen adventures, order some Rougie duck breasts today and have some fun – hopefully smoke alarm free!