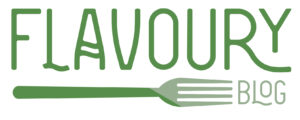 Happy Canada Day.  We have made it to July, the month of warm weather, cottage visits, and perhaps even some travel. Restaurants are starting to serve customers and we are all so excited to be sharing meals with our friends and families.  We are all hopeful that life will return to "normal", whatever that will mean in the future.
Our website is now live and we hope you have requested a log-in. You will be able to explore our entire catalogue of meats, cheeses and pantry items and place orders online, if you desire.  If you need any assistance feel free to contact [email protected] and she will walk you through the process. Please note that website access is currently being provided to our wholesale customers only.
The Great Canadian Cheddar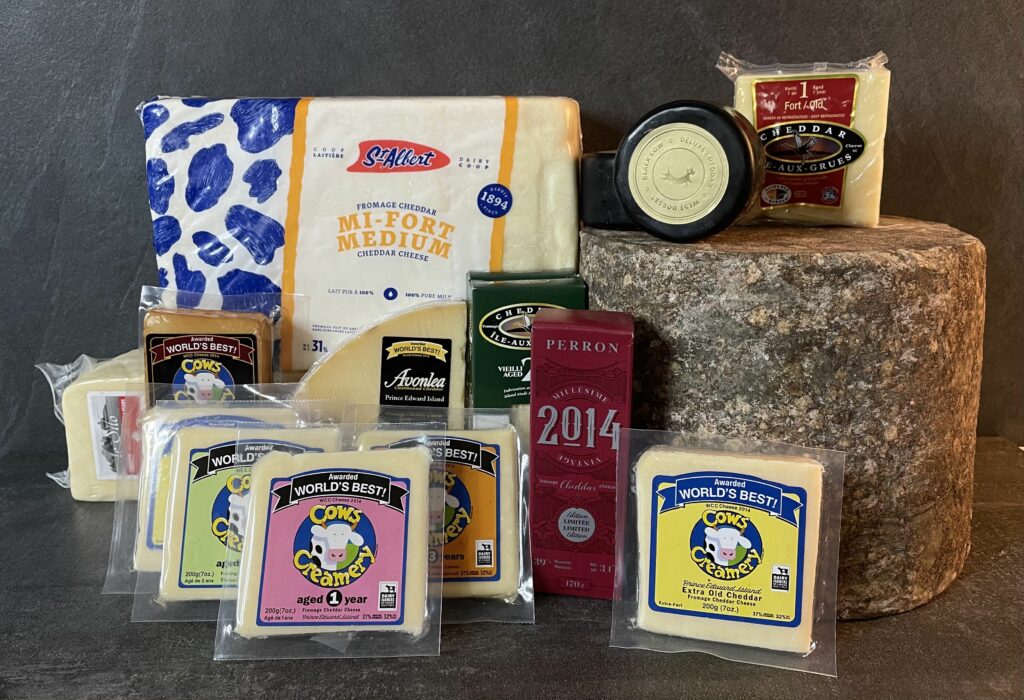 Cheddar Cheese originates from the town of Cheddar, in Somerset, England but if you ask Canadians about the history of Cheddar, many will try to claim bragging rights for Canada.  This may be due to the fact that over 30% of cheese eaten in Canada is of the Cheddar variety or because there are over 30 Cheddar cheese producers throughout the country.  According to Statistics Canada, it was estimated that approximately 160,000 metric tons of Cheddar cheese were produced in Canada in 2020.  That is a lot of Cheddar cheese!
In order for cheese to be classified as "Cheddar", it must go through the "Cheddaring" process.  To make Cheddar the curds are cut up and pressed together into slabs. The weight of stacking the slabs of curds on top of one another presses out even more moisture. Then the slabs of curds are cut up again, pressed into slabs again and stacked again. This is cheddaring. The process continues until so much whey is expelled that after aging, the cheese will have a crumbly, layered, dense texture.
Cheddar comes in a variety of forms including bandage-wrapped, waxed, flavoured and aged.  At La Ferme we sell both Cow and Goat cheddars from a variety of artisanal producers – last count we had cheddars from 8 different Canadian suppliers, plus numerous options for English and Scottish cheddars as well.  How do you pick?  Tasting is the best way.  We surveyed some of our staff for their favourite cheddar, and guess what, 5 different Canadian Cheddars received votes!
2 Year Cheddar from Fromagerie de l'Île-aux-Grues,  Avonlea Clothbound Cheddar from Cows Creamery, Lindsay Bandaged goat Cheddar from Lenberg Farms, 3-year Old from Cows Creamery Cheddar, and Gédéon from Fromagerie Medard.
Seed to Sausage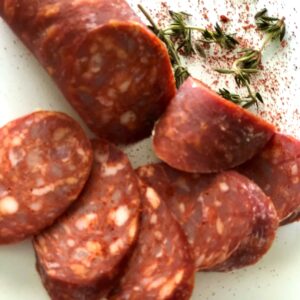 Seed to Sausage is a thriving small business producing hand crafted cured meats and charcuterie.  Mike McKenzie learned the trade while travelling through Europe and he began his business in Sharbot Lake, Ontario in 2011.  The meats used to produce the charcuterie are sourced from local farmers and the animals are raised in an ethical way. The company can even trace the sausage back to the seed that was used in the animals' feed, hence the company's name!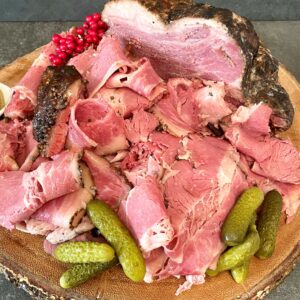 La Ferme was been working together with Seed to Sausage since the company's inception.  Far and away our biggest sellers are the naturally fermented dry cured Chorizo and Saucisson Sec along with the bacon.  Their offering has expanded over the years to include many varieties of cured meats and sausages.  If you are looking for an authentically smoked meat sandwich, look no further than Seed to Sausage's Montreal Smoked Meat.  You will not be disappointed.
New at LFBR: Stonetown Artisan Cheese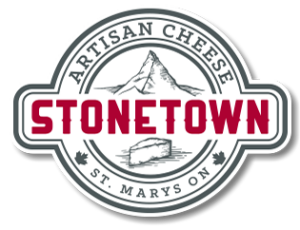 To celebrate Canada Day, we are thrilled to be adding Stonetown Artisan Cheese to La Ferme's stable of partners. Yolanda and Hans Weber are dairy farmers and cheesemakers based in St. Marys, Ontario. Stonetown produces high-quality unpasteurized Alpine-style cheeses right in our backyard.
Here's their story straight from the source:
With our three children in tow, we immigrated to Canada in 1996 to begin a new life in St. Marys, Ontario where we could start our own dairy farm.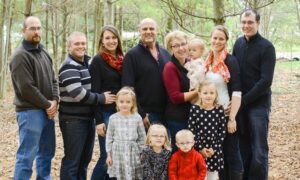 Having previously worked in the Swiss Alps, it was always our dream to produce delicious, high quality cheese reminiscent of the renowned Swiss Mountains and made from our own milk. With a profound commitment to creating cheese of the highest quality and the support of our family along with Ramon Eberle, a Master Cheese Maker from Switzerland, our humble dream became a reality.
Our commitment to produce high quality cheese is best reflected in the care we give to our Holstein cows. They live in a clean and comfortable free stall barn, sleep year round on beach sand and enjoy feed of the best quality and even have their own spa like back scratcher!
It's hard to pick just one, but Stonetown's Grand Trunk, the 2016 and 2017 Winner at the Royal Agricultural Winter Fair, and the 2018 Winner at the British Empire Cheese Competition, is a Gruyere-style cheese with a bold, nutty flavour, that you need to try! The Homecoming is creamy and complex, an incredible version of authentic Swiss Tilsit. Capri Ella goat cheese has a distinctly natural mild earthy flavour, great for snacking or melting, while the washed rind and more aged, Amazing Grey brings more pronounced aromatic and sweeter notes to the party.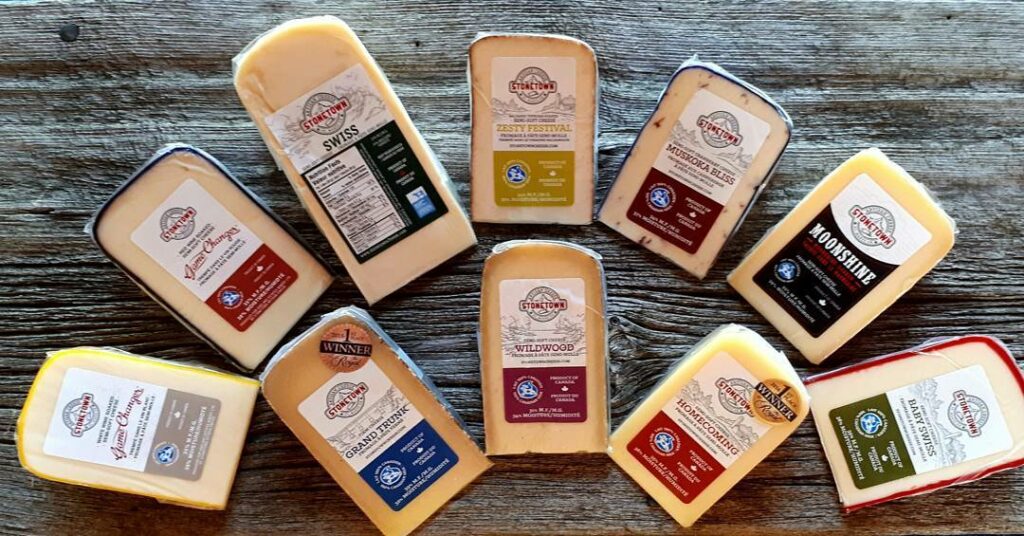 Our initial offering will include the following cheeses.
Farmstead Emmental
Homecoming
Wildwood
Grand Trunk
Capri Ella (goat)
Amazing Grey (goat)
Reach out to your sales representative for sizes, pricing and more.
New from the Cheese Fridge: Grillou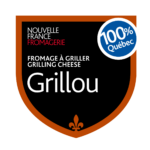 Grillou is new Halloumi-style cheese from one of our favourite cheesemakers in Quebec, Fromagerie Nouvelle-France. Halloumi is typically made from a blend of milks, most often sheep and goat, but also cow (sometimes all three), depending on the season. Grillou is made with the most traditional combination, a blend of goat and sheep milk, giving it some additional complexity and depth of flavour.
Once grilled, the semi-soft perfectly salted paste becomes soft on the inside and crispy and brown on the outside. You can sear it in a pan, or it's great to get some grill marks on the BBQ!
Pro tip: If you're grilling Halloumi on your BBQ, make sure it's not too hot! While this cheese has a very high melting point, it will melt at a certain temperature (it can vary). If you get your BBQ up to 600 degrees you'll have a mess on your hands.
The name Grillou is an intentional reference to grilling, but was also a way to describe a tin artisan in some regions of France. This year, Fromagerie Nouvelle-France is celebrating its 10th anniversary, sometimes known as the Tin Anniversary, so the name seemed to perfectly reference traditional French roots of the cheesemaker as well as the process of preparing it.
This month, La Ferme is offering a mixed case on promotion. Each case contains 4 plain, 3 herb, and 3 chili.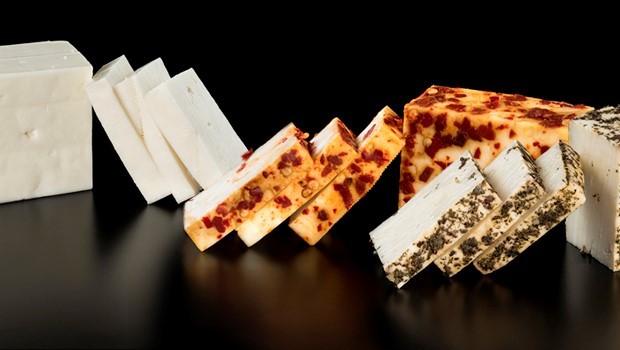 July Promotions
In July we are celebrating Canada with an assortment of Canadian products from across the country. For pricing or other information, please speak with your La Ferme representative.
Seed to Sausage Jalapeno Blue Cheese Salami
Grillou Mixed Case
Saganash