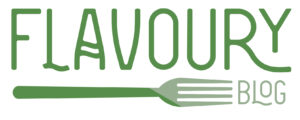 Summer is almost here and with it, hopefully the end of the COVID-19 lockdown in Ontario.  This means a return to restaurant dining and lots of home entertaining – finally.  We must all do our part to support local restaurants and retailers who have suffered through six months of hardship. We are so excited to celebrate birthdays, anniversaries, weddings and other life events in person and we are optimistic that we will be doing these things very soon. Father's Day is just three weeks away and hopefully we will be able to gather together for some family celebrations. Be sure to check out our  Consumer Boxes page for some Father's Day Specials
Our website is now live and we hope you have requested a log-in. You will be able to explore our entire catalogue of meats, cheeses and pantry items and place orders online, if you desire.  If you need any assistance feel free to contact [email protected] and she will walk you through the process. Please note that website access is currently being provided to our wholesale customers only.
Too Much Waste?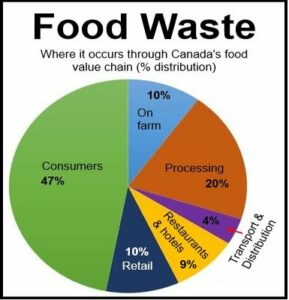 Have you thrown away any food over the past week? If so, you are likely joining over 75% of Canadian families that have done so too. At La Ferme, we have made a commitment to better manage and reduce waste in 2021 and we hope that our customers will join us in this initiative. The delicate year that has just passed has reinforced the need to manage this process for economic, social and environmental purposes. The table attached provides some useful insights into where food waste occurs through Canada's food chain.  We try to operate our business on a just-in-time inventory management system. This requires a very close partnership with the farms and suppliers we work with, as well as a very closely managed transportation and distribution system.  By providing customers with the freshest product possible and maintaining proper temperature control, we are doing our part to ensure that our products are delivered, processed, sold and consumed before spoilage occurs.
Health Canada provides strict guidance for food consumption including best before dates and expiration dates, which are not the same. The best-before date indicates that if the product has been properly handled the unopened product should be of high quality until the specified date. Best-before dates are about food quality and not food safety. Expiration dates are only required on certain foods and after the expiration date, they may not have the same nutritional content as declared on the label.
How can you do your part to reduce waste?  For all sectors the most important priority is to plan conservatively.  Restaurants must choose the correct preservation methods and plan menus that incorporate products in more than one way.  Retailers must focus on conservation techniques and are in the best position to educate consumers on product imperfections and best before dating. Consumers should focus on meal planning, food storage and how to interpret food product dating.
Biobio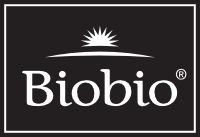 Biobio's parent company, Gattuso, was founded in 1936 by Pasquale Gattuso in Montreal's Villeray neighbourhood. The company started out importing and representing quality European brands in Canada, and at one time were one of the largest olive processors in the world.
In 2004 they launched Biobio, making cheese with organic milk from Quebec farms and certified by Québec Vrai and Aliments du Québec. With decades of experience working with top imports, Biobio has become a significant brand in Quebec and Canada's responsible and sustainable agro-food industry.
Biobio produces certified organic versions of many classic cheeses like Cheddar, Gouda, Mozzarella, and Parmesan, but also utilizes their roots, importing some of Europe's best. Organic Spanish Manchego, Italian Parmigiano-Reggiano, and Greek Feta complement Biobio's domestic offerings.
The Biobio cheeses are on special at La Ferme for the month of June. Reach out to your sales representative for more information.
Better than Yia Yia's Mediterranean Dips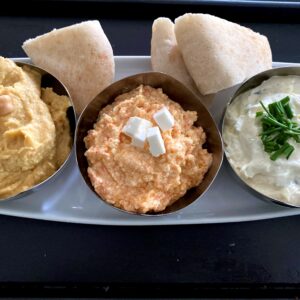 In September 2016, Joanne and Deanna Dickens launched their all-natural Authentic Greek Dips in Toronto. Made with premium ingredients including First Pressed Greek Extra Virgin Olive Oil, Ontario yogurt and feta, and pure lemon juice, the dips will transport you directly to a beach side taverna in Santorini.  Everything is made without preservatives, water or fillers, and are healthy and delicious.
As a local Toronto & GTA run company, everything is made fresh to order. What is better than a picnic in the sun with some delicious, rich, and savoury dips to enjoy with friends and family? Nothing! These days as we are all looking for ways to enjoy the outdoors together, why not inspire your shoppers to enjoy the warmer weather with some hand-crafted dips? 
Dips can be ordered by the unit and varieties include Lemony Hummous, Tirokafteri (a spicy feta dip), Tzatziki, Taramasolata, Honey Yogurt, and Gigantes Baked Beans.
Firing Up the BBQ with La Ferme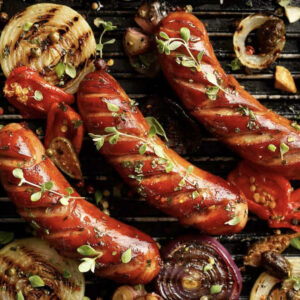 Soon we will be able to gather in groups of 10 outside, and there is no better way to gather with friends and family than with a BBQ to bring us together. All Canadians equate summer with BBQ season and we are ready to help you fire up the grill with premium meats, poultry and even cheese.
We have a new selection of game sausages now available. In addition to our popular Wild Boar & Mushroom and Venison with Dijon sausages we are now offering Bison and Blueberry, Crocodile with Chicken and Pork, Kangaroo with Fine Herbs, Venison Toulouse, and Duck and Orange sausages.
We also have an assortment of burgers including grassfed Beef, Wagyu Beef, Elk, Bison, Venison and Wild Boar.
If you like to add grilled cheese to your salads, be sure to try our Bedouin Halloumi, St. Vallier Halloumi, or the Grillou, a new sheep and goat milk Halloumi-style cheese from Fromagerie Nouvelle-France.
June Promotions
In June we're featuring some of our favourite products on promotion. For pricing or other information, please speak with your La Ferme representative.
Biobio 3yr Cheddar
Biobio 18M Parmigiano-Reggiano
Celebrity Chèvre Original
Celebrity Chèvre Herb & Garlic
Celebrity Chèvre Honey