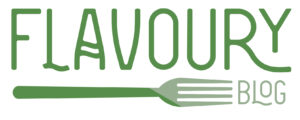 In November 2020 restaurants were shuttered due to Covid-19.  It has taken almost a full year but we are so thrilled to welcome back our restaurant customers with no in-door dining restrictions.  We are hopeful that we will be able to celebrate the 2021 holiday season with friends, family and restaurants! Restaurants are back just in time to offer their annual game season menus.  La Ferme is well stocked with Bison, Venison, Duck, Ostrich, Pheasant, Squab and even Kangaroo.  Start planning your game menus now!
Creekside Pheasantry

In October we welcomed back Creekside Pheasantry to our selection of game birds for a new growing season.  Creekside Pheasanty, located in Millbank, Ontario has been raising pheasants for both hunting and farm-to-table since 2005.  They raise Kansas Blue Blacks for hunting and the Mongolian Ring Neck for culinary pleasures.  Pheasants are very flighty birds so Creekside has a large outdoor netted area once the birds are able to go outside, along with a  6,000 square foot brooding area for the chicks. The growing season runs from October through January, so if you want fresh birds, fall is the time to get them.
The fully grown pheasants usually weigh approximately 2.5 lbs so they are very manageable to cook with.  Pheasants produce meat that is lean and white, somewhat like chickens but the meat is a bit tougher with a more gamey flavour.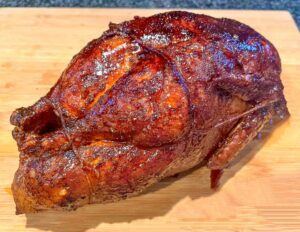 Roasting a whole bird is a great option in the late fall while the birds are younger and the meat is more tender.  Pheasants are very low in fat so it is best to roast low and slow.  We recommend brining the birds to help maintain moisture and add depth of flavour to the cooking process.  You can use turkey or chicken recipes to get you started with cooking pheasant as well.  Another popular option is the cook the breasts only, also known as supremes.  The pheasant supremes are boneless breasts with the wing attached.
Rock Star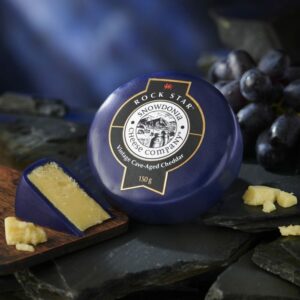 Introducing Rock Star, Snowdonia's newest Cheddar that is cave aged. Aptly named due to its 18 month maturation in a former Slate mine located in a valley surrounded by the mountains of Snowdonia national Park. Rock Star is unique in the Snowdonia cheddar lineup because it is their first vintage aged in a cave. According to the Snowdonia team, the natural caverns within the Welsh slate mine create the perfect conditions for aging a vintage Cheddar.
Rock Star is rich and complex in flavour. First bites introduce notable sweet caramel moments mixed with a savoury tang and a long finish. As with most great aged cheddars, the occasional crunchy salt crystal adds texture to the smooth dense consistency of Rock Star. Encased with a cobalt blue wax to celebrate the historic rocks from the caves it is aged in, everything about Rock Star is designed with a purpose. 
Sold in two sizes: retail boxes of 6 200g truckles, or wholesale 2Kg wheels
Berni Charcutier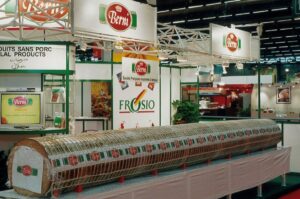 Berni Charcutier is a French family run business specializing in quality charcuterie. The founder was of Italian descent so many of the products are crafted after tradtional Italian and Spanish recipes.  Berni is well known in France for its entries into the Guiness World Record book for producing the world's largest Mortdella.  It held the record for some time with a Mortadella weighing in at 2,074 Kilograms, but it has since been surpassed with one weighing in at 2,680 Kilograms.  That is a lot of Mortadella!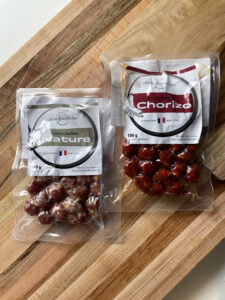 We have been selling the Berni Mini Saucisson and Bonbon in a variety of flavours for several years now.  These products are excellent for charcuterie boards and snacking.  The Bonbon are now available in a retail format and are shelf stable so they are great for grab-and-go or checkout purchases.  The retail packs are available in Nature, Pepper and Chorizo varieties.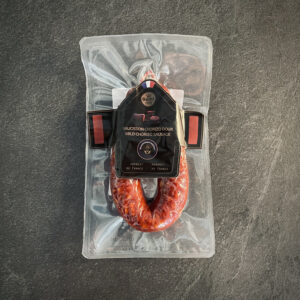 Berni also produces a variety of chorizo with homage to traditional Spanish practices. The chorizo are 250g and come in sweet or spciy.  This product is also shelf stable and gluten free and will be a very welcome addition to holiday boards, gift boxes and restaurant menus.
Lindsay Bandaged Cheddar
This award winning clothbound goat milk Cheddar from Mariposa Dairy / Lenberg Farms is handcrafted in small batches Lindsay, Ontario (part of Mariposa County). Mariposa Dairy uses the premium milk from their own goat farm (Lenberg Farms), as well as some other local farms who share their values and insistence on top quality.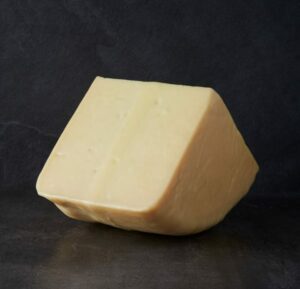 The large, 20 kilogram wheels are wrapped in cheesecloth and placed on wooden planks to age for 12 months. The resulting cheese is firm and sharp, perfectly creamy and buttery, with the slight tang of goat's milk, and a big sweet finish.
This month, the 5 Kg quarter wheels of Lindsay Cheddar are on sale at La Ferme. Reach out to your sales representative to learn more.