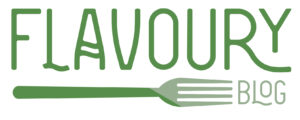 Our website is now live and we hope you have requested a log-in. You will be able to explore our entire catalogue of meats, cheeses and pantry items and place orders online, if you desire.  Ineed any assistance feel free to contact [email protected] and she will walk you through the process. Please note that website access is currently being provided to our wholesale customers only.
Beautiful Boards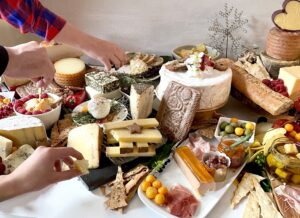 Sharing food is something we have all missed over the past 18 months so as you turn your attention to the holiday entertaining season, consider sharing food on boards. Simple arrangements of food can be turned into elegant and beautiful arrangements, all done ahead of time, so you can spend time at the party, rather than being stuck in the kitchen.
The Beginnings
Getting started is often the hardest part.  Firstly, you need to have some basic equipment – boards, serving tools and bowls.  Boards come in a variety of materials and sizes so choose from a variety of wood, slate, marble and glass to get started.  Cheese knives, fancy spoons, tongs, forks and toothpicks are essential items that you can never have too many of.  Finally a variety of small bowls in a variety of materials, shapes and sizes will finish off your equipment list.  These will be used for accompaniments, breads and crackers.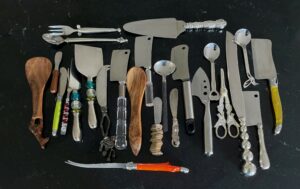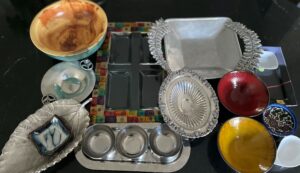 The next decision is "How Much do I Need"?.  Is your board part of the the appetizer before a meal, part of a potluck meal or the meal itself?  If you are preparing an appetizer board, it is best to limit the selection to a few items so that your guests don't get too full before dinner.  If the board it part of a potluck dinner then a themed board is a great option – a Mediterranean tapas board or a French cheese board perhaps.  If your board is the meal itself then you want to go all out and have a wide selection of cheeses, meats, dips and vegetables to thoroughly satisfy your guests.  For these events, filling you whole table with a variety of boards will create a stunning visual presentation and will offer adequate selection for every dietary preference.
The Creation
The first rule for creating a beautiful board is that there are no rules!  Have fun and be creative. Use quality ingredients that will ensure your board gets devoured, regardless of how you present your ingredients.  Here are some basic steps to help you get started:
Gather all of your ingredients together so you have an idea of what you will be putting on the board and how much space you will require.
Start with the largest ingredients first, such as a whole piece of cheese or a large terrine.  It is best to keep large items towards the outside of your board so that they will be easier for your guests to access.
Add any bowls that you will be using for dips, preserves or other garnishes such as olives or cornichon so you can arrange other items around these containers.
Arrange your other items to fill in the space.  If you are using hard cheeses it is a good idea to cut the cheese into wedges or slices.  It is also fun to build little towers with cut cheese to add more interest to your board.  If you have a large quantity of a few ingredients, spread them in a few different areas, again for ease of access and for interest.
Add fruit, flowers, crackers, breads and other garnishes to fill in the empty space and add colour and visual appeal.  Place your serving knives, forks and spoons where you want them to go.
For large crowds or dinner events, use a variety of different board textures, sizes and heights.  Not all boards need to be wood – it all depends what you are serving.  Tiered cake plates add visual appeal, as do coloured plates and bowls so look in all of your cupboards.
Stand back and admire your creation!
Themes
Pick your items based on these flavours!! Together and apart these flavours offer an endless opportunity o mix and match different types of charcuterie, cheeses and other items.  Think outside the box beyond the classic cheese and charcuterie board.  A brunch board could feature smoked salmon, bagels, smoked fish and cream cheese.  A Mediterranean board could include assorted dips, falafel balls, salads and breads.  As winter approaches we love to warm up with fondue or baked brie so build a board around these cheese stars then add breads, vegetables and steamed potatoes.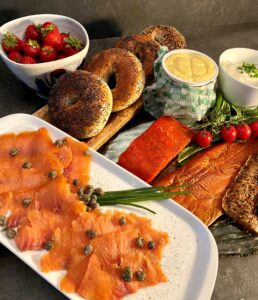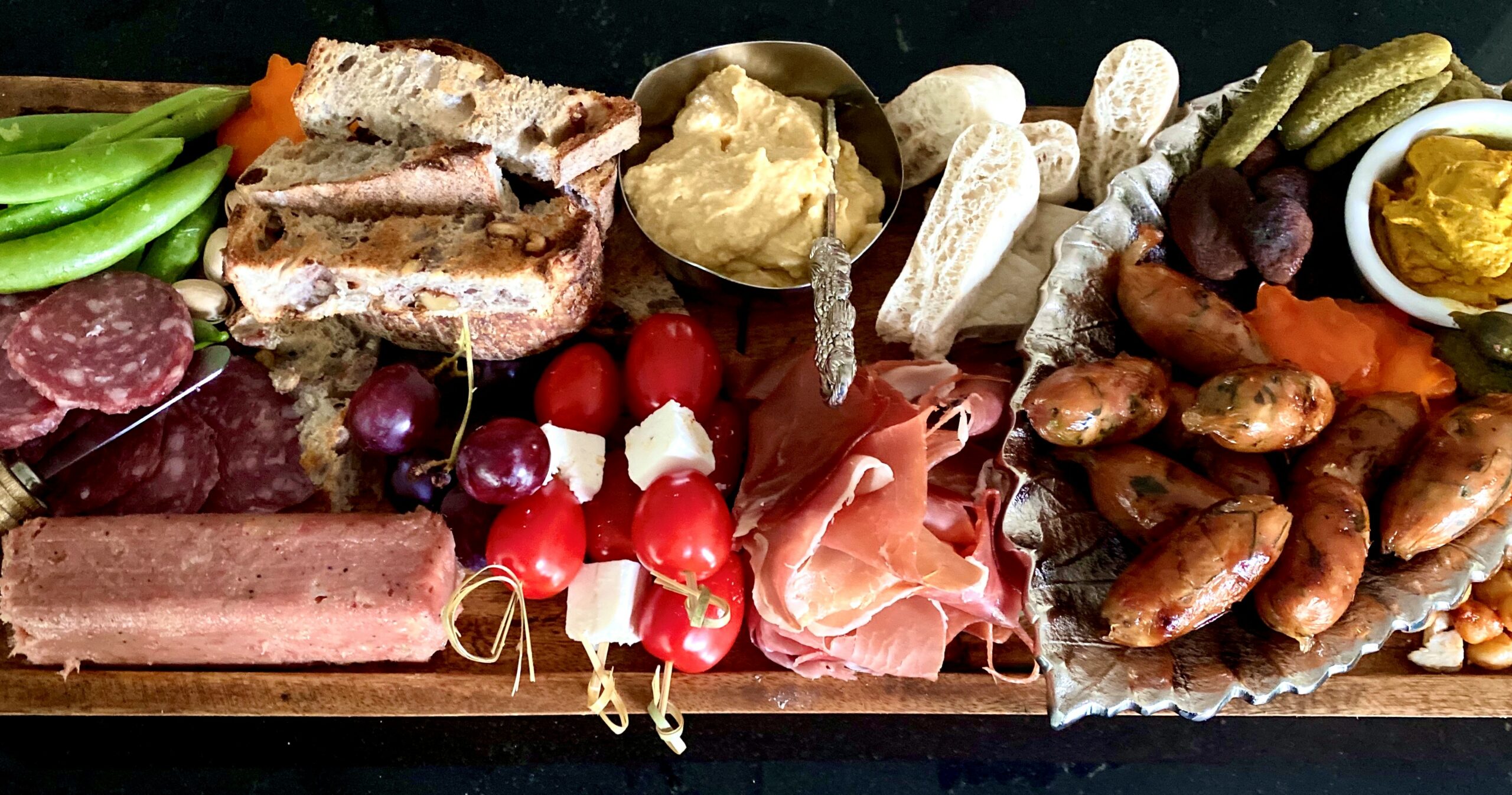 Be sure to visit our Instagram during the month as we post an assortment of different boards created by our La Ferme family!